At Avatar Contractors we do several types of commercial remodeling, including remodeling commercial bathroom/restroom in Metro Atlanta.
If your business depends on your kitchen, you can't let it be in a bad state or have an old and damaged element. If your kitchen is damaged your business as well, so from time to time it is important to do necessary remodeling and upgrade your commercial kitchen. As soon as something in your kitchen breaks down, the best thing you can do is find a professional company to remodel it and redesign it for you.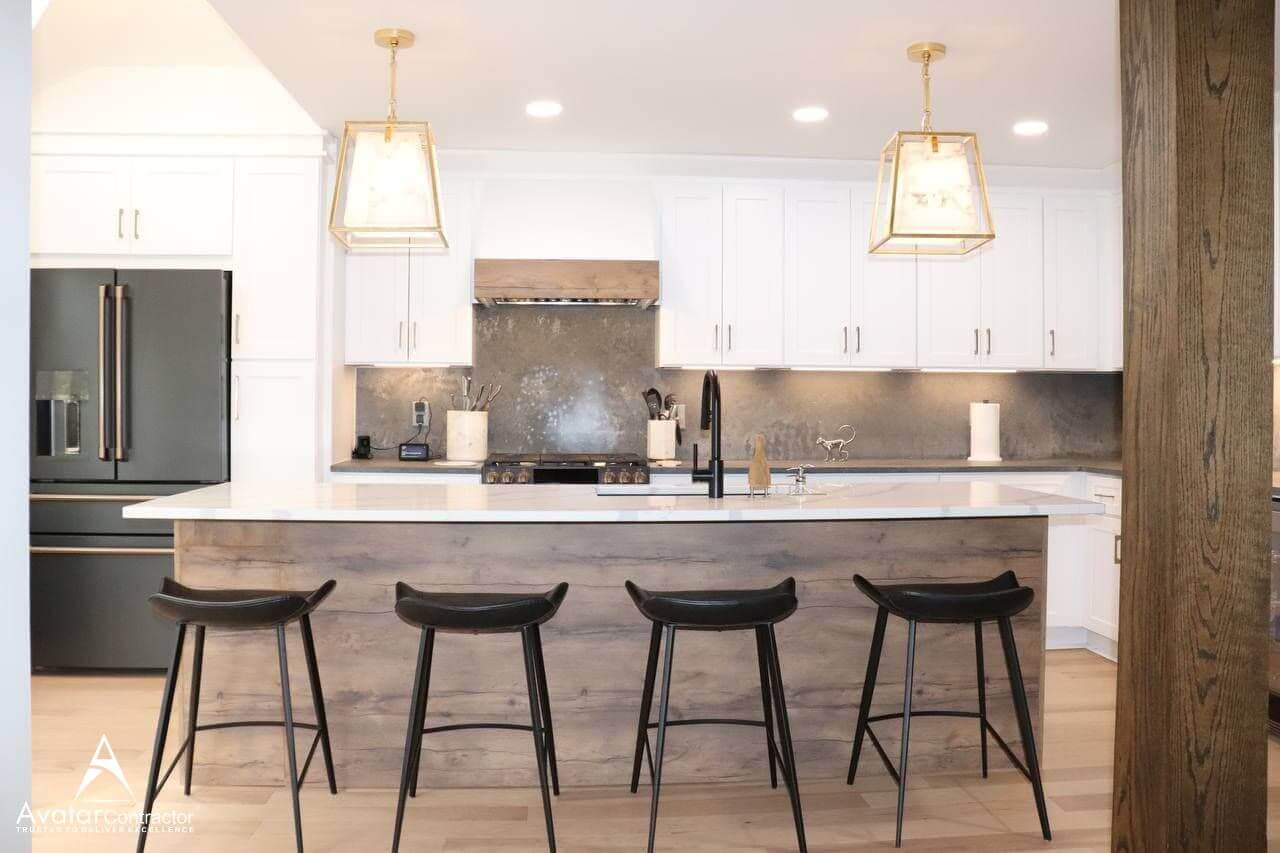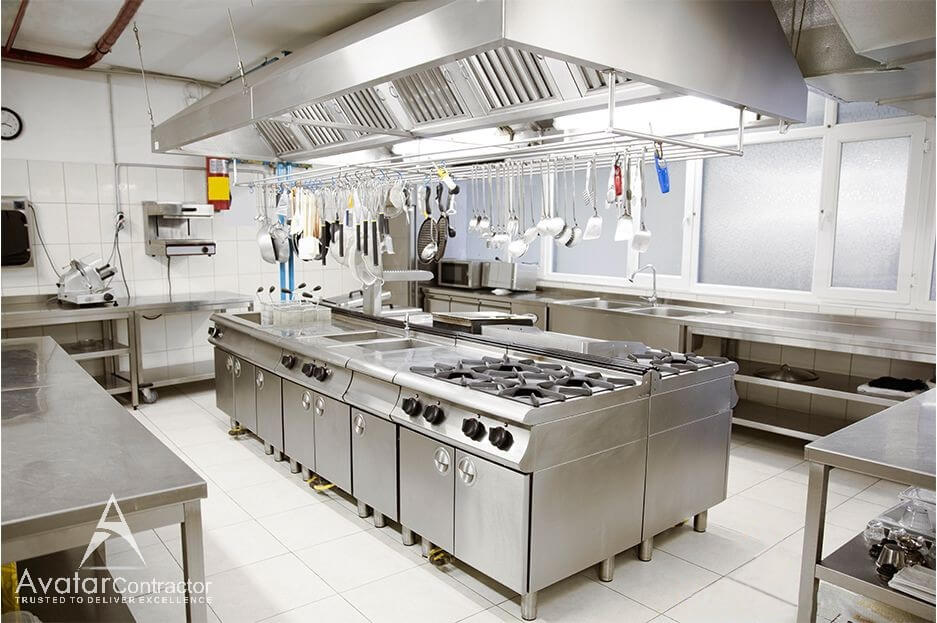 Our team uses the best materials and tools in the industry to perform all the work they ask us, this guarantees you impeccable results, plus a professional and very beautiful finish, so your kitchen and eating room reach that aspect that so much cravings it has and your customers will feel much more comfortable when they use it. Contact us and we will immediately get to work for you and your business.
Whether you need a finish-out for a restaurant, office space or other type of commercial kitchen, trust the professional team at Avatar contractor to create the perfect working environment for you and your employees.

The flooring is one of the most important aspects when you are designing a commercial kitchen. At Avatar Contractors, we have plenty of experience at commercial kitchen remodeling projects, and we know that the most important aspects when installing new flooring at this type of kitchen are safety, sanitation, infection control, aesthetic and comfort. This means that we can give you a full assessment about how to meet all those needs when you choose your new kitchen floor tiles, and after that, we'll send a team to install it for you with a beautiful and professional finish.

In the commercial kitchens, there's a lot of movement and food splashes happens every day. That's why a really important element in any commercial kitchen is a backsplash that's made with some easy to clean material so you can enjoy of a clean and healthy kitchen without many complications. This means that you may want to have the best "commercial remodeling contractors near me" that you can find in Metro Atlanta, and we have it for you, its name is Avatar Contractors.

One of the most popular needs in commercial kitchens the cabinets. A storage solution where anyone can find what they need to cook: tools, food, spices or anything else is putted in walls, floors and even ceiling cabinets to make the place a bit more organized. That's why a lot of business takes the option of making commercial kitchen remodeling to add cabinets to some specific spots.

At Avatar Contractors we have over 15 years of experience working as commercial kitchen remodeling contractors, that's how we know that having perfect counters is necessary for all the people who work in a commercial kitchen. Otherwise, they won't have a place to cut the food, assemble the dishes and all the other necessary tasks related to cooking. Those counters must be easy to clean, really firm and steady and have a good surface and space for the workers to develop their activities.

You might think that is not such an important thing, but the kitchen painting can give it a new fresh air, an elegant style, can be favorable for the cleaning and add some value to any commercial kitchen. That's why you need some experts to make your commercial kitchen look stunning, you need some commercial remodeling contractors to run that project for you.

Commercial kitchens are made of stainless steel for practical reasons. However, there are some fixtures and spaces that would be more useful, resistant, versatile and beautiful if they are made of wood. And for any commercial kitchen countertop, cabinet, closet, showcase or fixture made of wood you'll need a carpenter that can do all those big works.

It's a crucial thing that a commercial kitchen is well illuminated. To be precise, it's a matter of safety, efficiency and offering great conditions in a stressful space of work. So if you've noticed that the lighting in your commercial kitchen is deficient, maybe it's time to get a commercial kitchen remodeling to fix the problem as soon as possible.
Request for Service Information
Financing Available:
If you have a commercial remodeling project but need help with your budget, don't hesitate to contact us. Just complete a no-obligation estimate request form or contact us by email or call us at 770-776-6218.
Avatar contractor, professional commercial kitchen remodeling company near you. Call us today at 770-776-6218 or click here to request a quote Click here.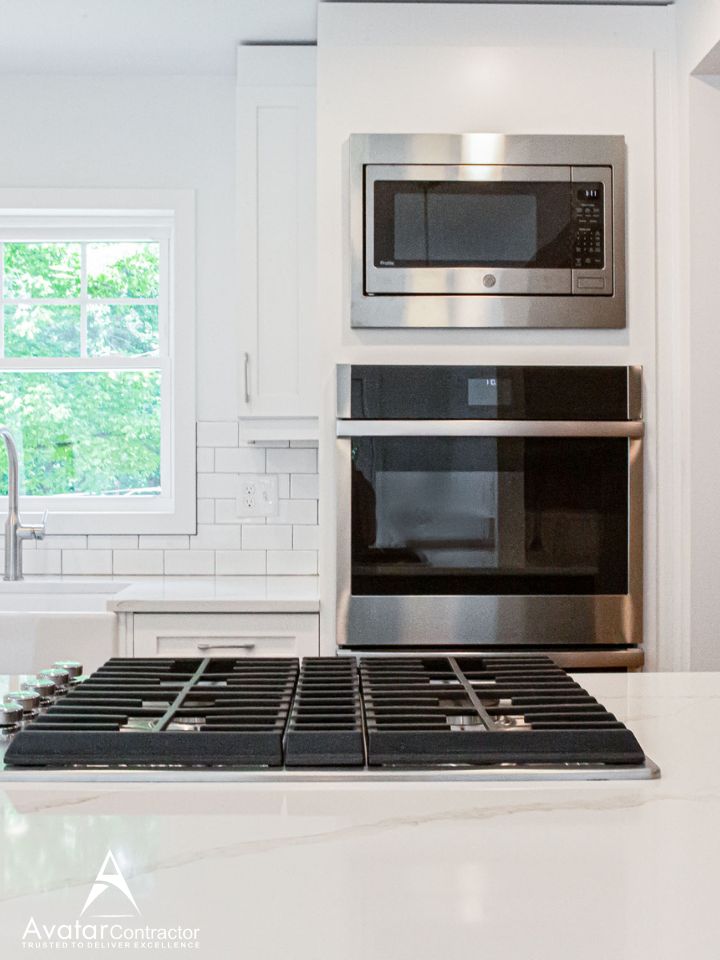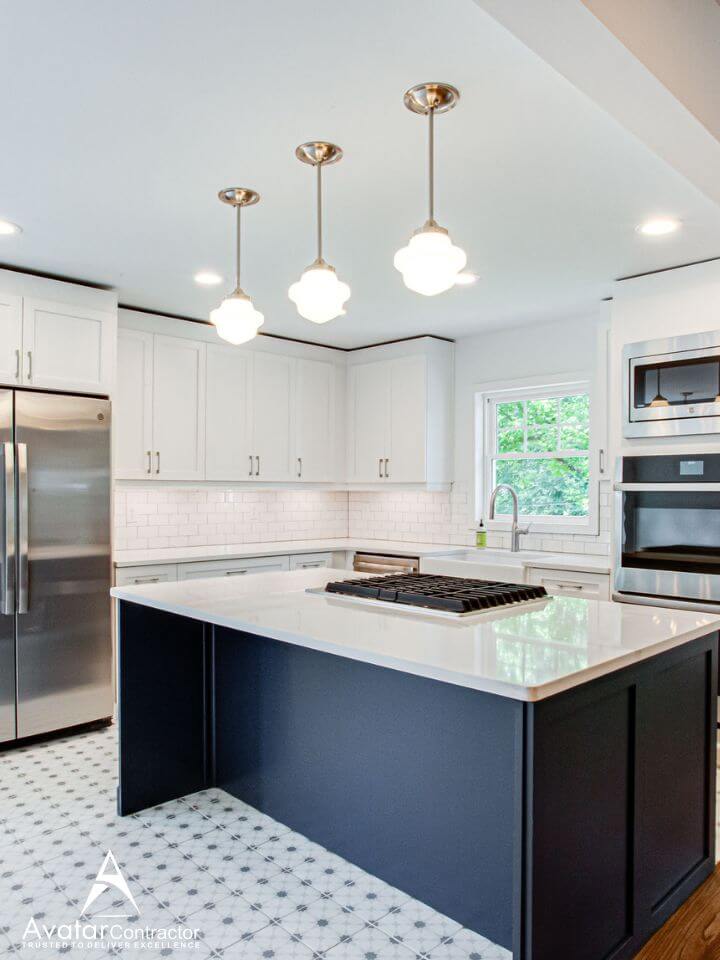 Find your home design style
Your only job is to tell us how you want your room, bathroom, kitchen or living room, and we'll design it for you. We are not satisfied until we provide you with an environment that feels comfortable, beautiful and functional.
We offer a contemporary design, functional and totally adapted to your needs.

We use the best materials, with the highest quality so that every finish is totally perfect.

We have an excellent technical sales and after sales team that will keep in touch with you during the whole process.
Featured projects
Recommended Recent Projects
Things to know before start your Kitchen Remodeling project
Things you need to knobw before start your remodeling project: Bathroom, kitchen, home remodeling, etc
Where we can explain the costumers what they need to know.